Dr. Kenneth M. Leavitt, DPM
Board Certified Foot Surgeon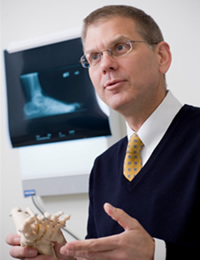 Dr. Leavitt specializes in surgical correction of foot problems. He places a high priority on learning and using the most up-to-date procedures to benefit patients. His professional career has been characterized by his willingness to work in close collaboration with other kinds of medical specialists (orthopedists, radiologists, neurologists, anesthesiologists, plastic surgeons, pediatricians, etc.) to assure the best possible outcomes for his patients. Dr. Leavitt is a Diplomate, American Board of Foot and Ankle Surgery, certified in Foot Surgery, and has been in practice treating disorders of the foot, ankle joint and lower leg since 1983. He is a native of Stoneham, Massachusetts, a 1979 graduate of Boston University and a 1983 graduate of the Chicago Medical School, at the Finch University of the Health Sciences, Foot & Ankle Surgery Faculty (formerly Illinois College of Podiatric Medicine) in Chicago, Illinois. He is a long-time instructor affiliated with several post-graduate podiatric surgical training programs in the Boston area. In November, 2009, he was appointed Chief of Podiatric Medicine and Surgical Services at New England Baptist Hospital.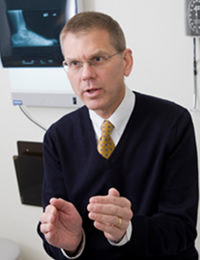 In 1993, with the endorsement of the U.S. State Department, he and several other U.S. and Lithuanian physicians founded a non-profit medical and surgical clinic in Lithuania, the Baltic-American Medical & Surgical Clinic. The Clinic was the only one of its kind in the former Soviet Union and included a variety of surgical specialties staffed by English speaking foreign and indigenous physicians and nurses. A variety of Boston area surgeons visited the Clinic and performed and taught their specialties. When the project became more complex than expected, Dr. Leavitt gave up his practice in suburban Boston and moved with his family to Lithuania for 4 years while he personally assumed direction of the Clinic.
Dr. Leavitt's medical and surgical teaching and clinical experience in Lithuania brought him into contact with many profoundly diseased and disabled children and adults - not cared for during the 50-year Soviet occupation. For his humanitarian work and contributions to the development of that country, the President of Lithuania awarded Dr. Leavitt full citizenship in 1999, a high honor.
When Dr. Leavitt returned to the U.S., he joined the surgical staff of the New England Baptist Hospital, one of the ten top orthopedic hospitals in the United States. He recently chose to limit his surgical and admitting privileges to New England Baptist Hospital and Emerson Hospital (the latter for pediatric surgery). He is conversational in German and Lithuanian languages.
Guest Lecturer Explaining the anatomy of the foot and foot surgery (2015, 2016, 2017, 2018) for the Department of Anatomy Harvard Medical School
"Introduction to Gross Anatomy for Graduate Students and Researchers"
Dr Leavitt was invited in 2015 (and re-invited in 2016 and most recently June 7 and 9, 2017) to present the clinical side of foot anatomy to Ph.D. candidates who take an intense course in anatomy to round out their knowledge. The class includes graduate students in the sciences, humanities and business.