Testimonials
Years of pain, Nightmare of Potential Amputation Avoided by Careful Diagnosis that Other Experts Missed
Holly E Willard, DVM
Dr. Leavitt literally saved me from having a below the knee amputation to treat the debilitating pain in my foot and ankle.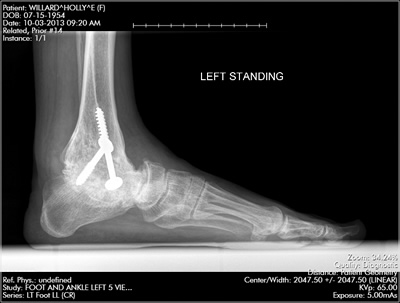 Thirty years ago, in 1987, I had fractured my left foot and ankle badly in a freak horseback riding accident. My ankle was repaired with the warning that I may never walk normally ever again. That said, I healed well and resumed my life. I was very active, riding my horse, walking my dogs, hiking, bike riding, etc. until 2009 when I had an acute onset of severe pain across the bottom of my foot. I went to a local orthopedic Doctor who ultimately said I needed to have my ankle fused. I went for a second opinion from an orthopedic surgeon at a prominent Boston hospital. He also agreed that I needed a fusion after trying a special foot and ankle brace to relieve the pain. He did not do much of a work up to pinpoint where the pain was coming from. I had my doubts about doing surgery, but over the past 20 years I had heard the same proclamation from several different orthopedic surgeons so I felt like maybe this was the treatment I needed. I was anxious to get back to my normal active life and with so many doctors stating that I would need to have my ankle fused I thought that maybe I had doubts because I was nervous.
This Doctor who did the surgery in 2010 said to me that "the surgery has an 85% success rate, so no need for more questions, it wasn't a brain surgery". I wish I had listened to that little voice in my head and kept asking questions. I had the fusion done, I was in horrific pain for 6 to 8 months, but the pain finally became "livable" and I resumed my not so active lifestyle. Three years after this surgery the joints in the rear part of my foot collapsed because of end stage arthritis. I could only walk with a removable boot cast on. I was in severe pain. I saw multiple orthopedic surgeons at multiple prominent Boston hospitals who all said that I needed another fusion surgery, but it might not work and I may just need an amputation. I was faced with the options of "live with the pain", try more surgery, or amputate, but none of these doctors even bothered to try and figure out exactly where the pain was coming from.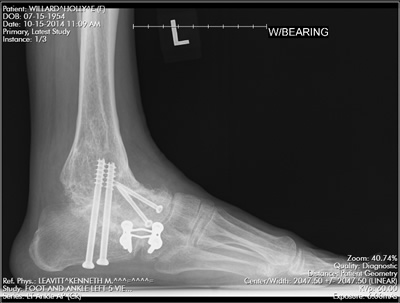 After doing the first fusion which failed badly and which I did because I was told "it should help so we should try it" I was not about to do another surgery unless someone could actually diagnose the source of my pain and none of the doctors from these "world renowned" Boston hospitals would even try to help me despite the fact that I could not walk and the pain was severe. Then, I found Dr. Leavitt. I called Dr. Leavitt's office and I got an appointment within one week. Dr. Leavitt started figuring out what was wrong at the very first visit. Dr. Leavitt did x-rays and a CT scan and gave me all the results during this first visit and then I knew I had finally found the best orthopedist in Boston. I had multiple appointments over the next 6 to 8 weeks as Dr. Leavitt systematically diagnosed exactly where all the pain was coming from. He precisely pinpointed which joints needed to be fused and he diagnosed the source of the original pain across the bottom of my foot as a condition called Tarsal Tunnel Syndrome which is similar to Carpal Tunnel Syndrome only it's in the bottom of my foot not in my wrist.
Dr. Leavitt performed the surgery in March, 2014 and I spent six months on crutches to allow proper healing. Dr. Leavitt also did a second surgery to specifically treat Tarsal Tunnel Syndrome which was the cause of my original pain but which had never been diagnosed by multiple other orthopedic surgeons prior to Dr. Leavitt. Once my foot and ankle was 100% healed from the fusion surgeries, I resumed my normal activities with no pain at all in my foot and ankle. It has been a long journey that started in 2009, but now, as of July 2017, I am able to do everything I want to do with very minimal pain. I am eternally grateful to have met this incredibly intelligent, talented, and compassionate doctor. Dr. Leavitt not only saved my foot, he also restored my life.

Holly E Willard, DVM