Testimonials
After Tendon Transfer, Heal Shift, and two Bunion Fixes, Shannon is Back Running
By Shannon DelVecchio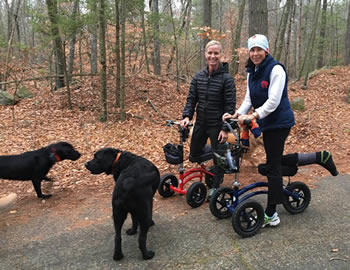 I first visited Dr. Leavitt in the Fall of 2012 after sustaining an overuse injury in my right foot from distance running. I have been a dedicated distance runner my entire adult life and this injury had me afraid that my running days were over. My injury which involved a torn posterior tibial tendon was complex enough that my original orthopedic surgeon thought the only foot specialist qualified to perform the surgery was Dr. Leavitt. Ultimately, the surgery involved a tendon transfer, a heal shift and the lengthening of the Achilles. After 8 weeks in a cast, I was back running within 4 months post-op.
Meanwhile during my initial office visits for my injury, Dr. Leavitt mentioned that he could also fix my bunions, which were relatively minor but had caused me some periodic pain for many years. My left foot bunion finally got so problematic that I decided to go ahead and have it fixed (Oct. 2013). Dr. Leavitt's work was once again perfect. Compared to the first surgery the bunion fix was a walk (on crutches) in the park and I was back running again in no time.
As bad luck (and bad feet) would have it, the bunion on my right foot began to affect my running stride and started to cause knee pain. I knew it was only a matter of time until I was sidelined with a serious injury. After having so much success with my two previous surgeries, I didn't hesitate to have Dr. Leavitt perform a third surgery on me. It is now 10 weeks post surgery (Dec. 2016) and I am rehabbing on schedule and I have no doubt I will be back running (again!) in no time.
For someone like me who loves running(and sometimes mentally needs it), these surgeries have made a world of difference. I have complete confidence that I will be running for many years to come. I encourage anyone who is contemplating corrective surgery to go forward with it. The pain of surgery and inconvenience to lifestyle is temporary, while the rewards are permanent.
Dr. Leavitt not only is passionate about his work, but he genuinely cares about his patients. A message to future patients: You are in amazing hands!

Shannon DelVecchio,
Duxbury, MA
December, 2016
shannonwdel@gmail.com