Testimonials
He Put My Toes on the Straight Path Again
By Justine Vassy
I was referred to Dr. Leavitt by a local podiatrist for surgery on my left foot for a bunion, hammer toe, three toes which were crossed, and the large toe which turned inward. This made me appear to walk side wards. The local podiatrist advised me if I was going to have it done, by all means I should have Dr. Leavitt do the surgery as "he was the best."
I went to see Dr. Leavitt in 2007 and 2009 but both times did not follow through. During these visits the x-ray techs and the staff told me he was a perfectionist but to prepare myself for post op and recuperation if I was to follow through on the surgery.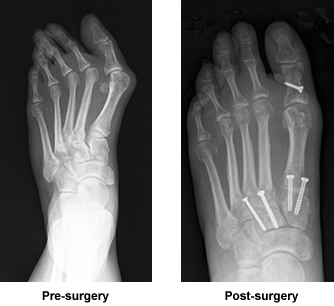 I finally underwent surgery on 5/6/11 at the New England Baptist Hospital. I was in surgery for five hours but fortunately was able to return home the same day. I followed Dr. Leavitt's instructions to the letter. I rented a "Roll-A-Bout" which enabled me to get around in my home while keeping my foot off the floor which gave me independence as I was not a candidate for crutches. I had to remain non weight bearing for two to three months.
After 12 weeks I was able to return to work with my foot still swollen at times but with perfectly aligned toes. I would have to agree with my local podiatrist that "Dr. Leavitt is truly the best." I remember seeing a needlepoint sign in his office that said "Take good care of my work." I did. I followed his instructions and had minimal discomfort.
I can truly say he has a caring, friendly and efficient office, and I would receive a prompt E-mail in response to my questions. Upon seeing Dr. Leavitt in follow-ups I was always treated professionally and with courtesy. He was available to me at all times to answer questions or to re-assure me that my healing was going along as it should.
Now 9½ weeks of non-weight bearing is behind me and I am currently undergoing physical therapy.
I may, in time, need to have my right foot done and I will not hesitate. Dr. Leavitt will be my choice but for now, a big thank you to the doctor, who put my toes on the straight path again. I would highly recommend Dr. Leavitt.

Justine Vassy
mmjlynn@comcast.net