Testimonials
If You Do What He Says, You Will Have Positive Results
By Kim Murphy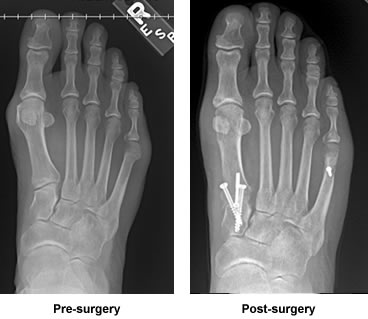 Dr. Leavitt performed bunion surgery on my right foot on both sides. He checked on me after surgery and told me to take care of his work and I did. I was non weight-bearing for 8 weeks. My hard cast was removed at about six weeks and a soft case applied for the remaining two weeks.
When I saw him at eight weeks I was allowed to walk with a crutch for a week, he said, but I actually started to walk without a crutch right away. I began physical therapy and it feels and looks great. The incisions healed beautifully.
I spent a lot of time agonizing over whether or not to have surgery at all. I am so pleased with the results. I didn't have a lot of pain, didn't need the pain medication. I did however have some atrophy from the cast on my lower leg. I would have gone into this a bit stronger if I knew how rapidly a person would loose muscle.
Dr. Leavitt was great answering my emails during the first few weeks. If you do what he says to do you will have positive results.

Kim Murphy,
Happy Patient, age 57
kymandco11@gmail.com