Testimonials
Orthopedic Surgeon's Bunion
"Excellent Bunion Surgery and Realistic Advice Says Army Orthopedic Surgeon"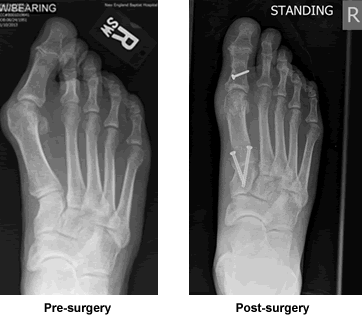 As an Orthopedic Surgeon myself, I know how difficult it may be to find the right doctor. After my bunions became more prominent and painful during my last deployment to Afghanistan, I realized that something had to be done to correct them. When I returned to Boston after redeployment, I sought consultations with several Podiatric and Orthopedic colleagues about my situation, and several recommended Dr. Kenneth Leavitt as the surgeon to go to.
When I first consulted Dr. Leavitt in January 2013, he explained what he recommended be done to fix my bunion, and cautioned me that recovery would be a long and frustrating process. He was very honest and straightforward, not minimizing the frustrations I would experience, and for this I was very grateful so as not to expect too much, too rapidly. Because he is proud of his surgical handiwork and wants the best for his patients, he explained that my recovery would reflect on his care and skill.
His advice was right on and absolutely correct. I have now fully recovered from his excellent surgery, my foot looks normal for the first time in 50 years, and I have started a rehab program. I have been extremely happy with Dr. Leavitt's approach to my problem, his surgical expertise, his post-operative care, and most importantly, his realistic advice throughout.

James C. Bayley, M.D.
Orthopedic Surgeon
Colonel, US Army National Guard (Ret.)