Testimonials
My New Left Foot
By Dr. R. J.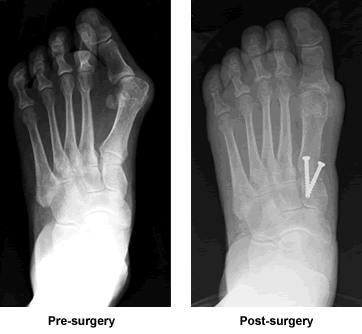 By the time I found my way to Dr. Leavitt's office in the spring of 2009, I had consulted with at least 6 podiatrists and orthopedic surgeons. A severe bunion on my left foot was worsening, pushing my other toes out of position. I had always rejected the idea of surgery because I didn't have severe pain in the joint. However, over the past 5 years, discomfort in different parts of the foot was increasing; I could no longer walk barefoot on a beach, and found it difficult to find reasonable shoes.
Dr. Leavitt took a thoughtful, realistic approach in helping me consider the pros and cons of undergoing elective reconstructive surgery to correct these problems. He took into consideration not just my age (69 at the time) but my level of fitness and activity, as this would determine how well I could manage the post-surgery regimen. I understood that mine was a "severe" case and that it would not be a simple surgery. The short-term picture - almost two months on crutches - seemed daunting. Discussing the details of my case with Dr. Leavitt was extremely helpful; for the first time I felt as if I had sufficient information, and that I was in the hands of a highly experienced surgeon. I scheduled my surgery for late summer, a time when it would be convenient to take a 3- to 4-week leave from my work.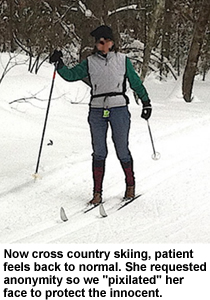 Over a period of several months, all of my dealings with Dr. Leavitt, his office staff, and the New England Baptist Hospital were extremely positive; the pre-op orientation, work-ups, and infection control were impressive in their thoroughness. Particularly helpful in planning for and getting through the surgery and recovery period were:
Speaking in advance with other women (whom I located through Dr. Leavitt's website) who had undergone similar procedures;


Increasing my level of fitness and also practicing on crutches prior to the surgery;


Obtaining a Scooter which made the 7 weeks of non-weight-bearing MUCH easier. As an alternative to crutches and/or walker in the home, this made self-care, cooking, and all manner of activities possible. (I rented mine from another patient; they can also be rented or purchased commercially.)


Dr. Leavitt's continuing close attention and encouragement at numerous follow-up appointments. A highlight of these visits was the ambience of his waiting room where patients at all different stages of recovery offered support, feedback, and useful ideas for getting through the post-op period.


Taking advantage of the excellent Physical Therapy Dept. at the NEBH. (In addition to PT, I discovered that Medicare will also cover in-home assistance during the immediate post-operative period.)
Now, five months post-surgery, I am wearing normal shoes and walking a mile to and from work as well as up 3 flights of stairs to my office. Last month, we traveled to Puerto Rico where I walked daily on the beach. Yesterday, I cross-country skied for 2 hours. Hopefully, this "good outcome" will be pertinent to others considering similar procedures.

Dr. R. J.
(Patient requests anonymity, but agreed to let Dr. Leavitt provide her email contact to prospective patients with a similar diagnosis or conditions).
February 1, 2011