Testimonials
Artist Grateful for Surgery That Another Doctor said was "Nearly Impossible"
By Sue Slowey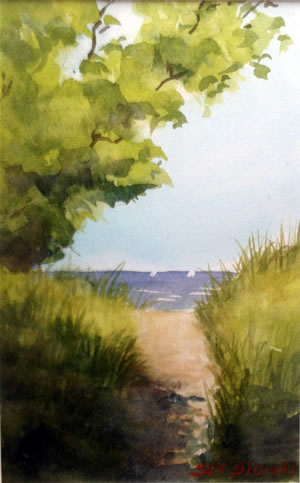 Please accept this watercolor that I painted in gratitude for these past few months of care. It is a painting of the path we take to the beach. It's about a mile from our house.
I had seen another podiatrist before visiting you in September, 2013 for a consult. After meeting you I knew I could trust you to give me a functioning foot that would take me into my later years of life. My husband and I are very active and without my functioning foot I would have had to slow down. You showed confidence in being able to do what another doctor said was nearly impossible.
After the surgery, the visits with you in your office made me feel sure that I could get through the healing and have a successful outcome. Let me add that before having surgery you fully informed me about what I needed to get around at home and the time it was going to take. I had time to "get my head around" the commitment to have this surgery done. It made all the difference.
Thank you again for taking such good care of me. I know you see a lot of people and in the waiting room I have conversations with people at various stages. Each person says the same thing. They all know you are the best. They trust you and know if they just do what you say and wait for the healing to happen everything will turn out well.
Thank you again for serving me with the gift God has given you and treating me and my foot so well.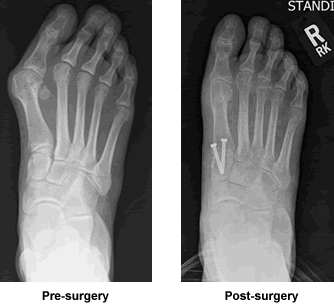 One Year Later - NOV. 2014
This November 24 it will be one year since you transformed my right foot. Let me tell you I am delighted. After the time of healing and stretching , I have been doing everything I've wanted to. I go for long walks on the beach, golf, bike ride and play with my grand kids.
Last spring I had to work on keeping my foot stretched and doing the exercises recommended to me by my PT people. But I have been amazed at how our body heals. As I used my foot and pushed past limping ( which becomes a habit more than anything) I can say I walk with a perfect gate and can do anything I want with my foot.
Thank you again Dr. Leavitt for working your gift on my very deformed foot. I wear pretty sandals in the warm weather and can fit into boots and just about any shoe I want to wear with no pain of a bunion. But beyond the aesthetic I have better posture and can feel the change in my body. I feel better about growing older with my foot working as it was meant to. We go to an orthodontist to straighten our teeth, why not go to "Dr. Leavitt" for the healthy feet needed to keep us moving and holding up these bodies. It was a big decision to do such major surgery but I knew I was in good hands and I couldn't be happier. Thank you and my God continue to Bless you.
With deep appreciation and respect,

Sue Slowey
Plymouth, MA
susanslowey@gmail.com