Testimonials
Hereditary Bunions
"Dr. Leavitt eliminated a hereditary condition that was very painful and disfiguring. What a joy to wear sandals again."
By Beverly Millar
What a joy to be able to wear sandals this summer for the first time in many years!!! My right foot is totally healed after Dr. Leavitt's magnificent bunion surgical procedure January 13, 2005.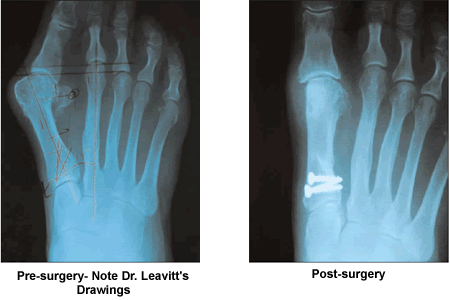 I had suffered from severe bunions for many years but had been very reluctant to seek a surgical remedy for several reasons. Much of what I read advocated surgery only as a last resort. In addition, some people I spoke with who actually had surgery related graphic details of a long and painful recuperation period. There were even instances when the surgery had to be repeated because not only was the bunion not corrected but was actually made worse!
A few years ago I needed to see a specialist because of a foot injury. In passing, I asked him how he might treat my bunion condition. He told me he would not be comfortable doing surgery on them because of the severity of the bone angulation.
Then I happened to meet one of Dr. Kenneth Leavitt's former patients who highly recommended that I least consult with him in spite of my reservations. She was very pleased with the results of a surgical procedure he had performed on her. She also noted that she never felt rushed in his office and appreciated the time he took to explain all details of the treatment.
I am so glad I took her advice. Upon entering his office for the first time, his staff was extremely cordial and highly efficient. After examining the X-rays taken on site, he thoroughly explained exactly what surgical method he would use, and why, to correct the bunions. I asked him a series of questions I had prepared, and took notes as he addressed each one. Primarily, I asked about the length and expected outcome of the surgery along with pain and recuperation issues. He gave me relevant material to take home and read and urged me to call him if I had any other questions or concerns.
I decided to have each foot operated on one year apart at New England Baptist Hospital, where the remarkable staff and facilities certainly lived up to its renowned reputation.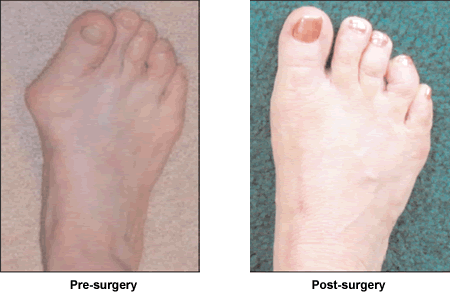 After each outpatient procedure I followed Dr. Leavitt's post-operative instructions explicitly and experienced only minimal discomfort for the first two days. He even approved my use of a Roll-A-Bout, which is a small, wheeled "cart" with padding to support my knee and keep weight off the foot. It enabled me to avoid crutches 99% of the time.
Dr. Leavitt's incredible surgical skills have totally eliminated a longstanding hereditary condition that was very painful and disfiguring. I would highly encourage anyone who has been apprehensive about bunion surgery to see him for a consultation.

Beverly Millar
Eagle.25@verizon.net