Testimonials
Pleased with Hammer Toe/Bunion Reconstructive Surgeries
By Gail Bogdanow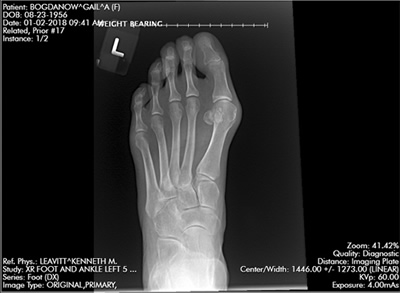 "Having seen what hammertoes did to my mother's quality of life, I knew that I would have to be proactive in my life. In addition I also had bunions on both feet. The pain and discomfort were still tolerable but I knew that they would only get worse with time. Something as simple as wearing a basic dress shoe and therefore a skirt was becoming more and more difficult. After much research on procedures and doctors, I felt very confident in choosing Dr. Leavitt.
He is a wonderful, highly skilled surgeon with a great down to earth bedside manner. I knew that I was in good hands and actually looked forward to office visits. He also personally answered my emails whenever I had questions. He said that the operation would be a commitment and my husband would be my slave and he was correct on both counts.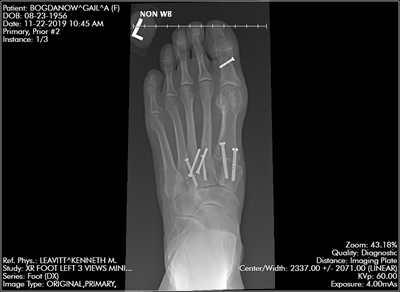 "We bought a knee walker that proved indispensable. We also borrowed a tub transfer bench from our town's senior center for showering as well as a dry cast protector. Every home is different but there are some preparatory basics. There were seven weeks in a cast followed by learning to walk again and several weeks using the Dynasplint devices. I was so pleased with the outcome that I had the second, less deformed foot, reconstructed as well. I am just as pleased with the results and my marriage is still strong."
I will be more than happy to share tips and ideas by email.

Gail Bogdanow,
Arlington, Massachusetts
February 2, 2020
gailbogdanow1@gmail.com