Testimonials
Careful Preparation Paved Way to Successful Bunion and Flat Foot Recovery
Nina P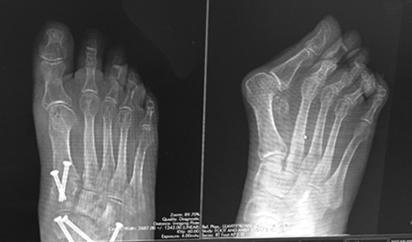 I am 66, and have suffered with severe bunions and flat feet for years compounded by osteoarthritis. It was difficult to wear shoes, walk barefoot and walk long distances without blisters and pain. I have been to several foot doctors who did not inspire my confidence in their ability to fix my issues. I found Dr. Leavitt in 2015 by doing an internet search and reading patient testimonials.
At my first appointment when Dr. Leavitt examined my feet and viewed the x-rays, he was very confident he could fix my problems. I placed my trust in his ability because he's done hundreds of these operations. I was a little nervous due to my age, but he was very reassuring.
The first operation corrected my left foot in December, 2015 - a triple arthrodesis (which involves fusing 3 joints in the back of the foot and ankle) and a bunionectomy to fix the bunion. Also he lengthened my achilles tendon. Dr. Levitt performed the same surgery on my right foot 2 years later.
Now 6 months after my second operation, I have resumed all my normal activities and have no pain at all. In fact I had very little pain after both operations - it was pretty amazing how little pain there was. My first steps after being non-weight bearing for 3 months were painful, but that quickly subsided as I walked more. I do have somewhat less side-to-side mobility in my feet, so have to be aware when I'm walking on uneven surfaces, but can easily walk on the beach and in the woods.
I do recommend having surgery, as long as you are prepared for a relatively long period off your feet (mine was 3 months because my condition was so severe) and as long as you follow Dr. Leavitt's instructions. Be prepared to keep your foot up when you come home from the hospital, and accept help when offered. I had both surgeries right after Christmas so I could recuperate during the winter months.
Prior to my surgery, I purchased a knee scooter online (cheaper than renting), cast cover for showering, a shower seat, crutches and, most importantly, I rented a stair lift for 3 months through Stannah. Our bedroom is on the 2nd floor and I didn't want to spend 3 months going up and down on my butt. It was well worth the investment. It's worth preparing ahead of time so you'll be ready to get around at home.
I was also very lucky that my husband was around to do most of the cooking and driving. I couldn't drive with the cast on my right foot. After my cast came off, Dr. Leavitt recommended using a device called a Dynasplint. This is a device you strap on your foot for an hour every day to increase your range of motion so you will be more limber when you are ready to walk.
Dr. Leavitt's waiting room is usually busy - lots of people with foot surgeries in various stages of healing. Bring something to read, and just expect to wait. You can always swap stories with the others in the waiting room.

Nina P
nsp423@comcast.net