Testimonials
The surgery restored a firefighter's ability to work pain free and to enjoy activities with wife and family again.
By Bob Thompson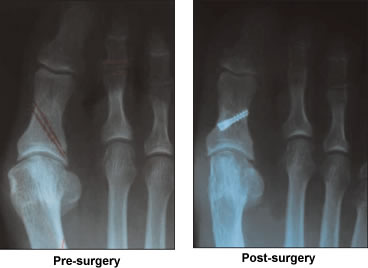 My foot problem started several years back, the diagnosis from a local podiatrist was fallen arches and plates were ordered to wear in my shoes. The plates never helped and so a second diagnosis was made that the work-required shoes were the problem. Time and a lot of shoes later ruled out this diagnosis. In 2003, I fell, we started noticing that I was holding on to the nightstand or window sill to get up and moving in the mornings. I didn't enjoy going to work any more but I did, with constant pain.
By summer, 2003, I noticed a "bump" on the side of my right foot; my big toe was starting to cross under the second toe. I went to an orthopedic surgeon who told me that he couldn't remove the bunion. The only procedure he could do, as a last resort, involved removing the joints, but I would no longer be able to work. He referred me to a local podiatrist who gave me a cream to rub on and inserted pads between the toes to separate them. She gave me instructions to come back in five weeks for the pads to be replaced. No one knew how to help or knew of anyone who could. The pain continued to get worse even through the nights.
My wife's internet research on bunions and treatment found Dr. Leavitt, his website and email address. My wife wrote and the next day had a response from him. A short time later with MRI films and X-rays in hand, we were in his office. He knew the cause of the problem; the procedure needed to correct it and told me what the long recovery would involve. He told me to think it over as it was major reconstructive surgery, but I knew it was my only option. The procedure was done on November 18, 2004. I followed directions during my recovery period to the letter and beginning on March 2005, I returned to work pain free.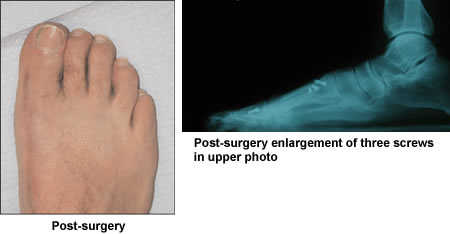 Dr. Leavitt helped me more than surgically; he saved my future. I am a Fireman/EMT, nationally certified fire inspector and recently certified fire investigator. In this profession you need good balance and mobility. The job requires climbing ladders, lifting equipment and carrying stretchers regularly. My retirement pension will be based on length of service; now I can work the full term because of Dr. Leavitt. He has given me the quality of life that allows me to enjoy activities with my wife and family again. I would highly recommend Dr. Leavitt. I wished we had met him sooner.

Bob Thompson
Falmouth Fire/Rescue Dept
drthompson@pbcomm.net