Testimonials
Painful Deteriorated Joints on Both Feet
By Lori Kelso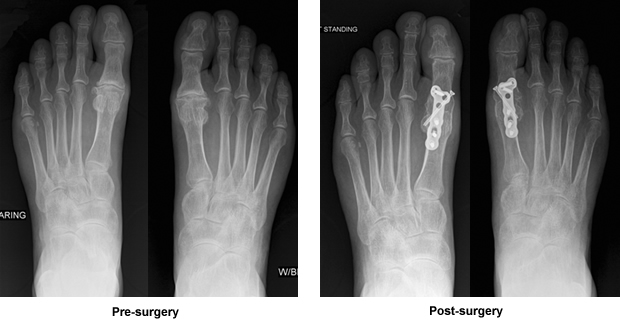 The problem with my feet started over five years ago. It didn't happen overnight. I gradually noticed different things. Bending my feet to try on many shoe styles became difficult, or it really hurt when I got them on. In yoga class, when told to flex our feet I couldn't do it as much as I tried and noticed that no one else seemed to have a problem. Over time I was getting more and more pain when walking any distance (something I love to do). For my daughter's wedding I really worried about wearing my shoes as anything with a heel hurt; but I was determined to wear them. With bunion pads strategically placed on top and back-up shoes ready for when the important things were over, I made it through. During a reflexology session, the reflexologist tried to bend my toes forward and I nearly kicked her and yelled out in pain. The problem with my feet was affecting my life. I enjoy walking, yoga and gardening. Bending and flexing became almost impossible.
My mother-in-law has bunions and I thought I had the same thing. She ordered us both a product that you put on your feet overnight to "cure" our feet. Well, I tried them and ended up ripping them off in the middle of the night. My feet became a constant source of discomfort, especially by the end of the day. I finally decided to see a local podiatrist hoping he would recommend a cortisone shot and everything would be fine. A couple of x-rays were done in his office. He told me my problem was more serious and I needed joint replacement right away. I never heard of such a thing. That was when I decided I needed to see Dr. Leavitt. I knew of Dr. Leavitt thru the doctor that I had worked for. Her brother-in-law had a crush injury of his foot and because of Dr. Leavitt, he was able to walk again.
Dr. Leavitt told me I did not have bunions. This was a different problem. My joints were so deteriorated that bone was rubbing on bone. In considering a course of action, he felt bone fusion was a better option than joint replacement. Considering my lifestyle, he determined that joint replacement might need to be repeated eventually and, although I would no longer be able to flex my feet, the problem would be corrected. (I hadn't been able to do that for a long time anyhow and I had already learned how to walk without flexing.) He explained the surgery, long recovery and what I would need to do to insure his work was successful. I went home to think about it. After much thought, I put together a list of questions and e-mailed them to Dr. Leavitt. He called that same day to arrange a time so we could discuss my concerns. Being self-employed, I had many concerns regarding the recovery process. Dr. Leavitt put my mind at ease and answered all my questions. After making some changes in my office and home, I felt ready to have my left foot operated on first.
I had full confidence in Dr. Leavitt and made sure to do everything that he told me to do. That was over a year ago. I heard Dr. Leavitt's voice many times to "protect his work", which I did. I took two weeks off to rest and keep my foot elevated and then eased back into my work schedule. It wasn't easy. I had my right foot operated 10 weeks ago and am doing great!
Dr. Leavitt and his staff prepared me well prior to both surgeries. From crutch training to getting a knee walker and dry cast, I went into surgery feeling prepared and confident that Dr. Leavitt was going to take care of my feet. Dr. Leavitt is a very dedicated and caring physician who truly makes you feel like you are his only patient. He really cares. I am improving with each passing day and can't wait until I can go for long walks again.
I can't thank Dr. Leavitt enough and would be more than happy to speak with anyone contemplating this surgery.

Lori Kelso
lorikels@msn.com