Testimonials
It is Worth Having Complex Foot Surgery When Older?
By Sarah "Sally" Smith
During my first appointment in Fall, 2015, Dr. Leavitt quickly assessed my situation and expressed concern and empathy over the condition of my right foot and ankle. He then clearly described how he could help me. At first I was overwhelmed, speechless and admittedly cried. I could not believe that he was telling me he could actually "fix" me.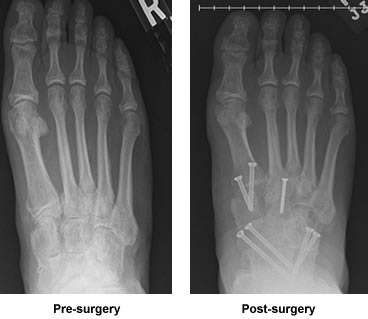 Let me back up and explain why I was so shocked and why I am now so grateful. I have struggled with osteoarthritis for years. At 49 I had bi-lateral knee replacements doing them both at once to just get it over with and get on with my life. That same year I had ankle surgery to remove bone spurs, it was not the first or last time surgeons had to go into my foot or ankle. After recovery from both those surgeries I had my active life back. During the last few years, things deteriorated to the point that despite numerous fluoroscopic guided injections they were unable to determine which mid-foot joint was causing me the most pain. Surgeons were looking for one, maybe two joints to fuse. Unable to pinpoint which were the worst we were at a stalemate and I limped away. I returned to my Podiatrist. He was alarmed at the condition of my foot and my gait. He gave me a boot to wear over the summer. I did find it gave more stability and I experienced less pain. Though it helped I developed a love hate relationship with it. It was hot and a real inconvenience. Because of the positive affect over the summer he prescribed an Arizona Brace with the hopes it would provide more practical pain relief and stability. He referred me to Dr. Leavitt to be fitted. That was my first appointment with Dr. Leavitt so imagine my surprise when he said "why would you wear a brace when I can fix you?"
I went home to think things over, returning with my husband to make sure I had actually heard him correctly and to discuss his plan and the recovery process. Dr. Leavitt was very thorough in his explanations, explaining the required two months non-weight bearing, one month partial weight bearing and months of physical therapy. Dr. Leavitt has explained that folks past the age of 60 often don't do well with major foot surgery that requires many months of disability and recovery. I decided that I wanted my life back and would go ahead with the procedure. I knew from past experience that is critical to follow all recommendations for recovery. It was strongly encouraged that I reacquaint myself with the use of crutches and recommended that I use a knee roller. His office staff kindly let me try out different brands of rollers from their storeroom. For me buying on-line was more cost efficient than renting. Before surgery we gathered "tools" that would help make me be as mobile as possible. I already had crutches, a walker and a raised potty. We borrowed a shower seat and wheel chair from the local Senior Center and installed a hand held showerhead.
I cannot stress enough how important it is to have a strong support system. My husband felt we were in this together and really took over. The first few weeks I slept on the first floor limiting the need to navigate the stairs, which I did on my backside. I had a raised potty next to the bed so a night trek to the bathroom was not necessary. The first week or two of my life was moving from bed to sofa and back taking care to keep my foot elevated as much possible. Once more mobile I would navigate the stairs, leaving a set of crutches downstairs and keeping another upstairs. Granted it was a long few months, but I tried to be productive while passing the time. My husband handled all the cooking, shopping, laundry and was just there to help wherever he could. A highlight for us both was getting the green light for me to drive. No more "Driving Miss Daisy". It is essential to find a qualified Physical Therapist, one you are comfortable with. I was fortunate and I actually looked forward to going. My physical therapist and staff provided strong support through the recovery process and I felt a sense of loss when released. Now, one year later, I still get a little stiff with inactivity but am able to quickly work it out. Every once in awhile I experience a day where my foot is sore but those days are manageable and more spread out as time goes on. Movement and strength have improved considerably and at times I stop in amazement that my gait is close to normal if not normal. In fact, this afternoon my husband and I took a walk in Callahan State Park and I was quit aware of how I was able to walk the uneven and at times muddy slippery path. I would not have been able to accomplish that without a boot just over a year ago. The challenges of the last year have been worth it for we are again living an active life. Thank you, Dr. Leavitt, for giving me this renewed lease on life.

Sarah "Sally" Smith