Testimonials
Bunion & Hammertoe Surgery - Reassurance by the Doctor
By Marjory S. Simpson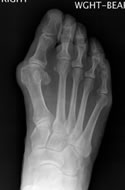 I'm 64 years old and have just recovered from surgery to correct a bunion and hammertoe. I've been wearing sneakers for the past 2-3 years because regular shoes were just too painful, and I work on my feet at a full-time job. I went to a doctor in Salem and he told me I would need surgery, and he referred me to Dr. Ken Leavitt. Being the skeptic that I am, I decided to get another opinion from a doctor closer to my home in Danvers. He suggested a surgery that would have me back on my feet in two weeks (vs. eight), but I had already been advised not to go that route unless I wanted to go back in a year and have it done again.
I hadn't had surgery since I was 6 years old for a tonsillectomy, so, needless to say, I was terrified! Once I met Dr. Leavitt, I was reassured and decided to go ahead with the surgery. He told me it would be a 4-month recovery and two months would be non-weight bearing. My husband had just died and I would be alone, so I began planning ahead. I arranged my home to be on the first floor during my recovery. I started physical therapy and did my exercises faithfully to build up my strength to use crutches. I purchased a "Roll-a-bout" and later a "Knee Walker" - both of which were extremely helpful.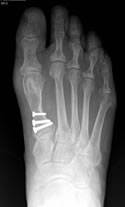 On June 2nd the surgery took place and everything went like clockwork. I left the hospital on crutches and elevated my foot at home. My pain was "minimal", just as the doctor said. The next day I received a call from Dr. Leavitt to see how I was doing (this never happens!) and I also got a call from the nurses at the surgical unit to see if I had any questions or problems. After two weeks I returned for my first checkup. The stitches came out and the pin was removed. A new cast was put on and off I went again. I had several appointments following surgery, and each time I was reassured by Dr. Leavitt with his smile, wit and easy conversational style. I came with my list of questions and he answered every one. Each time I went in nervous and I left with a big smile.
I feel very fortunate to have found such a wonderful doctor and one who was so well qualified.
My new foot looks great. My physical therapist said she thought it looked beautiful and that was not always the case. I can barely see where the incision was. The eight weeks that I was non-weight bearing was a small price to pay in the scheme of life to have a good foot under me afterward. I was forewarned to follow instructions and "Take Care of My Work" and it paid off. I'm glad I had the surgery and I would do it all again. If you are in need of a foot doctor, look no further; call Dr. Ken Leavitt.
Everyone was just great at New England Baptist - from reception and registration to the secretary in the doctor's office. The response I got was almost immediate each time I called there with a question.
If you want more information, send me an email.

Marjory S. Simpson
helochanana@aol.com