Testimonials
Born with Bunions
"I'm going to walk side-by-side with my family and dance and shop and not lie awake in agony at night."
By Linda La Tores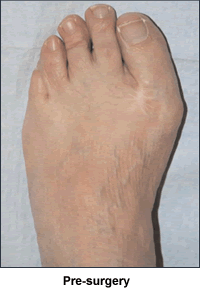 I was born with bunions. When I was 12 years old, my mother took me to a podiatrist for help. He said I was too young, and come back when I'd finished growing. So when I was 23 and had my own health coverage, I went to an orthopedic surgeon by myself. Now I didn't just have 2 little bunions. My toes were all crooked. My big toes went out at sharp 45 degree angles before coming back in. The doctor agreed both feet needed surgery, one just for cosmetic reasons if nothing else. So he sawed off the bunions and lengthened the ligaments between the big and 1st toes on both feet. On my left foot, he also broke the big toe and tried to turn the bone back in at a more appropriate angle. After much pain and recuperation, I decided my feet were "fixed".
Unfortunately, though, if I stood for long periods of time during the day, by the time I would lie in bed at night, it felt as if someone was hitting the soles of my feet with a rubber hose. As I got older, my feet started changing, but not for the better. Both feet still had the big toes going out at 45-degree angles; the bone breaking did not help. My feet were getting wider, the toe area was splayed, but the toes themselves angled into a point at the end of my feet. One toe was starting to cross horizontally over another toe. I was aghast to realize that my toes were definitely turning into my mother's toes.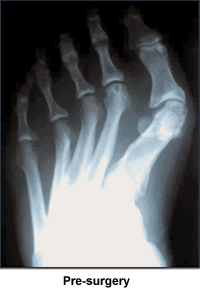 I did see one more foot doctor, who x-rayed my feet and told me that it would require major surgery and a bone graft from my thigh to fix the damage that the bunion surgery had caused. I gave up. As the years went by, when my family and I were walking in the city, they would always be a block ahead of me. I was not trying to walk slowly; I just couldn't keep up. It was getting difficult to stand and shop for hours with my daughters. I'd sit on the bench in the mall while they shopped.
Finally, a woman who was taking care of my mother told me quite emphatically that I needed to get my feet fixed. My mother is 87 years old and her feet were what hurt her the most. She did not want me to end up the same way. I had no idea how to find a great foot doctor, so I was looking in the yellow pages until a friend of mine said she knew a man with CP, who had extensive foot surgery, and would I like to speak with him? Of course I said yes, and the man's doctor was Kenneth Leavitt. The man could not praise Dr. Leavitt highly enough, so I made an appointment.
I felt foolish at the appointment, because my feet weren't particularly hurting, I hadn't had an accident and they were just my "normal" feet. Dr. Leavitt was amazed looking at the x-rays at how deformed my feet really were. He had such compassion and empathy and stressed how the operations would be major ones, but that he could really fix my feet from the metatarsal on. Not many doctors could do this. My first doctor definitely did not. When he broke my toe, he was putting a splint on the top of a tree that was crooked at the base (Dr. Leavitt's analogy). Dr. Leavitt said to take my time and think about it because I would be unable to use each foot for 8-10 weeks. A wave of shock and gratitude swept through me as I realized he was talking about giving me totally normal feet. I wanted to get started and shortly thereafter Dr. Leavitt operated on my first foot. Six months later, he operated on my other foot. I have a cast on as I write these words.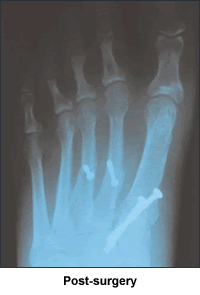 Dr. Leavitt's skill as a doctor and surgeon are extraordinary. The care and attention he gives to each patient is incredible. While waiting for x-rays, I was chatting with another of Dr. Leavitt's patients. We both agreed that Dr. Leavitt makes you feel like you are his only patient in the world. And I talked with the x-ray technologist, and the nurses and anesthesiologists at the New England Baptist, who all agree that Dr. Leavitt is an outstanding physician and person.
Thanks to Dr. Leavitt, I am going to be able to walk side-by-side with my family and dance and shop and not lie awake in agony at night. Dr. Leavitt has increased the quality of my life immeasurably. I cannot recommend Dr. Leavitt highly enough.
By the way, I had Dr. Leavitt look at my mothers' feet, because that is the way mine would have looked without his intervention. He cradled them in his hands and suggested a couple of procedures to relieve pain. She had them done and for the first time she can remember, she walks pain-free. I consider it nothing short of a miracle.

Linda La Tores
lindalatores@comcast.net