Testimonials
Barefoot and Pain Free
"Abby's bare feet... looked horrible, the nails like a tree sloth's, the toes crossing one over another. [Mattie] started to imagine herself washing them, and prayed, 'Please, anything but that.'"
By Lois Jenner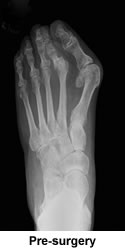 I recently read this passage in the novel Blue Shoe by Anne Lamont. Fortunately I hadn't read it before my surgery as it would have driven me even further into the shame, embarrassment, and disgust that I felt towards my own disfigured, ugly feet. When I did read it a few weeks ago, I silently thanked God for finding me Dr. Leavitt, rejoicing at the transformation he so skillfully brought about. I thought of my mother's equally deformed feet and wished that she, too, could have experienced the same reconstruction. There is no question that bunions are hereditary and if not corrected, can lead to far more serious problems.
As a child, my feet were the focus of much parental attention; my mother being convinced that well-fitting sturdy shoes would protect me from the same unfortunate deformities she suffered from. As an adult, I was constantly admonished that the pretty, stylish shoes I indulged in would ruin my feet. Whether caused by my genes or the shoes, my feet eventually were ruined, becoming increasingly so during a two year period after I retired; ironically, when I was no longer on my feet all day nor wearing pretty shoes. In fact, the only shoes I could wear were sneakers, which eliminated any dressing up for social events. Travel was also out of the question as walking was too painful.
After two previous surgeries for a bunion and a hammer toe, both of which left my feet in even worse shape, I was leery of risking any more. However, as my feet continued to fall apart and the pain worsened, I knew that something further must be done. I had heard good things about New England Baptist, but still somewhat dubious, I took the plunge and called the hospital for a referral to their best orthopedic foot surgeon. Without hesitation they recommended Dr. Leavitt. Not until after checking his web site did I make the appointment for a consultation. He was very thorough in his explanation of what he might do to correct my problems and answered my many questions about the surgery, the time I would spend in recovery, and how I might manage the eight weeks of being non-weight bearing.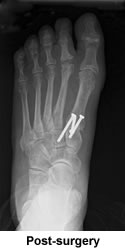 Prior to actually committing myself to the surgery, I contacted Beverly Millar, whose written testimonial was among several on his web site. Thanks to Beverly's helpful advice and reassurance, I finally arrived at one of the most difficult, as well as one of the best, decisions of my life and set the date for surgery. Beverly put me in touch with another of Dr. Leavitt's patients, whose operation was three weeks ahead of mine. Both women, Beverly and Kathy, were familiar with the Roll-A-Bout, an incredible little walker recommended by Dr. Leavitt, without which, convalescence would have been far more difficult. Kathy became my step-by-step guide throughout the process with frequent updates on her progress, preparing me for what to expect next. Nothing was as difficult as I had imagined it would be. With the Roll-A-Bout I was able to zip around the house and eventually up and down the aisles of the supermarket. The ten weeks of disability--which I had dreaded--turned out to be surprisingly comfortable and stress free. The end results were spectacular.
Three months after the second surgery I had the first pedicure of my life, bought my first pair of flip-flops, and headed for Florida. What a thrill to walk on a beach barefoot and pain free! What a joy to lounge by a pool without hiding my feet under a towel! I'm thrilled with my new feet, fused bones, new joints and all. I can now enjoy pilates, long walks, dressy evening affairs, and traversing airport terminals without agony. For once in my life I'm neither ashamed nor embarrassed by my feet. And best of all, I can get through a day without moaning, "My feet are killing me!"
Dr. Leavitt is a perfectionist, totally dedicated to his profession. Contrary to the stereotypical surgeon's lack of bedside manner, he truly cares about his patients, returns phone calls and e-mails, answers all questions, and when he says you'll be able to walk in 10 weeks, you can be sure that you will. For me he was a miracle worker.
I would be happy to speak with anyone who is contemplating foot surgery with Dr. Leavitt.

Lois Jenner
lpjenner@yahoo.com
(781)934-7732