Testimonials
Rebuilding, Healing and Comforting after Another's Failed Surgery
By Dolores B. Carabillo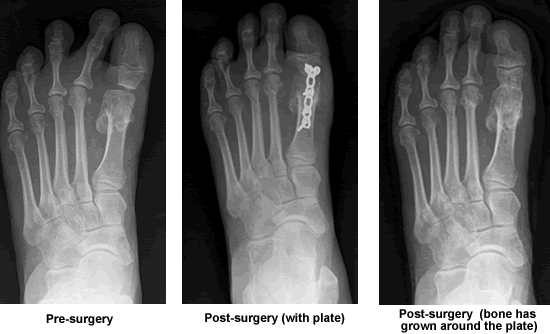 After years of searching for a doctor to help with my painful left foot, which was the result of a poor surgery at another Boston hospital, I met with Dr. Ken Leavitt. I had heard all the stories of how to fix my foot: Sew the toes together, take a piece of my hip bone for an implant, get an implant from donor, use the silicone spacer, the list was frightening.
During my first appointment with Dr. Leavitt he ordered x-rays immediately. The radiology lab paged Dr. Leavitt when they were ready to take the pictures and within minutes he arrived to hold my foot in the position he wanted while the x-ray was taken. My foot was badly damaged and much of the bone in the large toe joint was missing and the flexor tendon had been severed. I needed toe separators and bandages every day before I could put on a shoe. My walking time was very limited and the pain was becoming very severe.
Dr. Leavitt and I discussed what needed to be done while viewing x-rays. I did need another surgery. I had few choices. Bones had to be broken, toes had to be fused and no implants were possible. Over the next few weeks, I met another podiatrist who would assist Dr. Leavitt with my surgery and I also met the person who was to make the plate for my foot. Dr. Leavitt was always kind, compassionate, very caring and honest. He told me "this is a big deal" and he was right. Before and after my surgery he answered all my phone calls and e-mails and he always took time to listen. On one occasion, I had to see an assisting doctor while Dr. Leavitt was on vacation with his family. The assisting doctor phoned Dr. Leavitt, who answered the phone call during my visit. I thought, what a very special person this Dr. Leavitt is and how fortunate I was to be his patient. Surgery was done in December 2008, and after three months I was walking without pain on my new left foot.
During the summer of 2009, I went to a strawberry festival, walked in the sand at Good Harbor beach, and spent hours at the Topsfield Fair. Now I can take long walks with my dog. All of these activities and more I did with my grandchildren, without even thinking about my foot. More importantly, I was able to care for my mother before and after her cancer surgery last June. I can now go through my day without thinking about confronting foot pain because I had the good fortune to find a doctor with extraordinary dedication and concern. I have other health issues and far too many doctors, but only one Dr. Leavitt. I thank him quietly every day for helping me walk without pain.

Dolores B. Carabillo
dbcarabillo@comcast.net